Type: Trekking
Duration: 4D/3N
Distance: 43 km
Season: From March to January
Departure: Check Availability
Minimum of Passengers: 2 people
Classic Inca Trail Trek 4 Days is the most famous trek in the world, Every year the Inca Trail to Machu picchu is walked by thousands of adventure lovers searching for a special nature and historical experience. Although the totaldistance is only about 45 km.
In walking the Inca Trail to Machu picchu one travels back in time, retracing the steps of the Inca People themselves, while taking in the unparalleled natural surroundings. You do not find other circuit on earth combines such geographic diversity, ranging from the Peru Andean Mountain range to the amazon forest, with the archaeological ruins of an ancient culture in such a harmonious manner.
Inca Culture built a vast network of paths to connect different parts oof their regions which extended for more than 30.000 km. They rebuilt and enlarged the ancient road network and transformed it into the state who maintained control of the infrastructure due to its important economic, political and military functions.
Peru Andean Travel is an authorized Travel Agency to operate Inca trail 2021 and Choquequirao Trek 4 days, we will help you with the availability and reservation to make the Inca Trail to Machu Picchu and Choquequirao.
The Classic inca trail trek 4 days is a beautiful route if you want to see and natural attractions with cultural attractions.
View Map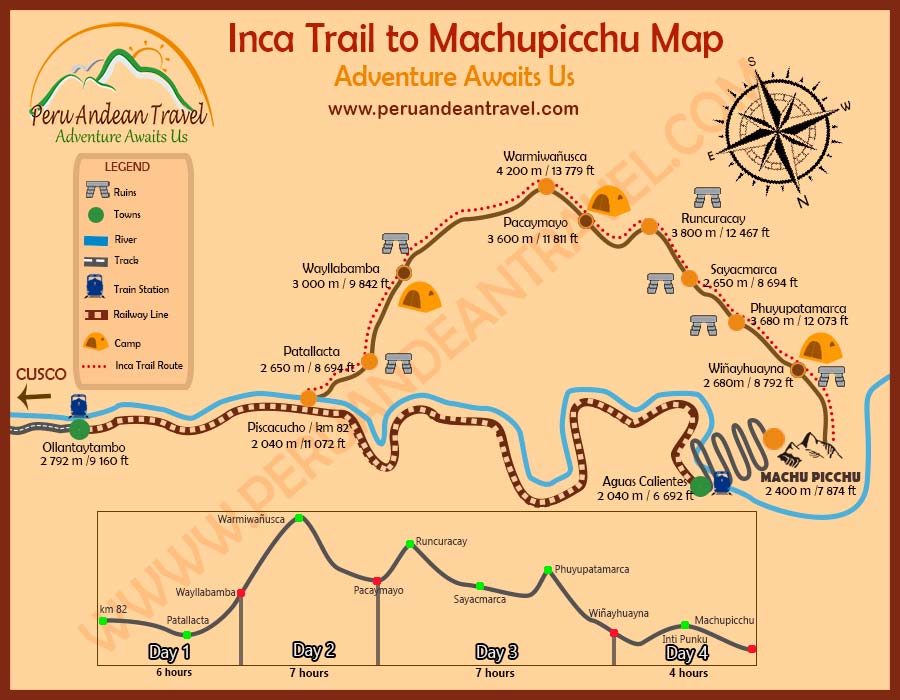 Inca Trail to Machu picchu
Day 1: Cusco - KM 82 - Llaqtapata - Huayllabamba
To hike the Inca Trail to Machu Picchu, adventures need to take the train from Cusco to Machu picchu, getting off the train at km 82, from where the Inca Trail Trek begins on the far side of the Urubamba river, after crossing over a hanging bridge.
Along the hills that run at the right hand side of the trail, hikers will soon spot a complex of building known as Quente humming bird in Quechua, Following the route, We will arrive at the Llaqtapata ruins (2300 masl). After crossing the Cusichaca river twice, the trail turns south toward Huayllabamba (2850 masl) an ancient Inca's citadel who protects the entrance to two valleys.
Total distance: 12 km (7, 47 miles)
Estimated walking time: 5 to 6 hours
Maximum altitude point: 3,000 m (9,840 ft)
Campsite altitude: 2,850 m (9,840 ft)
Day 2: Huayllabamba - Warmiwañuska Pass - Runcuracay - Pacaymayu
From here on, Nature is the travelers sole companion. The Inca Trail continues to climb in a northwesterly direction through the Llullucha Valley toward the Warmiwañuska Pass the highest point along the trail (4200 masl), The mean in Quechua, is where the woman died, has a local legend attached to it.
From Warmiwañuska pass one spot the ruins of Runcuracay (3,600 masl) and the Pacaymayu river. Once on the top of the pass we go down until second campsite named Pacaymayu at 3,600 m.a.s.l (11,480ft)
Total distance: 11 km (6, 84 miles)
Estimated walking time: 6 to 7 hours
Maximum altitude point: 4,200 m.a.s.l (13,776 ft)
Campsite altitude: 3,600 m (11,480 ft)
Day 3: Pacaymayu - Runcuracay - Phuyupatamarca - Wiñayhuayana
From Pacaymayu a sheltered valley studded with trees and cacti. When the path runs climbs again, it showcases Inca engineering in all its magnificence, for a few hours, the path runs amidst a labyrinth of mountains until it reaches the second pass, Runcuracay pass (3,900 masl) before finally descending into the Aobamba valley and the Mysterious cloud forest to the ruins of Sayacmarca (3,700 masl), by means of a stone staircase that is nearly 1,600 m long.
From Sayacmarca, the trail climbs once more, this time gradually, passing by the dry lake Chaqui Cocha and through a 20 meters tunnel hewn into solid rock, arriving at the third and final pass Phuyupatamarca (3,900 masl), walking through the pass, hikers are greeted with an extraordinary view of the Urubamba Valley, then We will go down to Phuyupatamarca ruins (3,600 masl), reached via a spectacular series of staircases cut into the rock and magnificent agriculture terracing. Finally we get last Campsite in the beautiful Wiñayhuayana's Andean village.
Total distance: 16 km (9, 94 miles)
Estimated walking time: 6 to 7 hours.
Maximum altitude point: 3,900 m (12,792 ft)
Campsite altitude: : 2,650 m (8,692 ft)
Day 4: Wiñayhuayna - The Citadel of Machu picchu - Cusco
We wake up early!, From Wiñayhuayna (2,700 masl) whose name means u201cforever youngu201d in Quechua. The main trail to Machu picchu sets out from the ruins of Wiñayhuayna at first climbing gradually but then steepening in its final stretch before reaching a small pass.
This is a place covered by tropical plant life, Known as the Intipunku whose name means Sun Gate, here we will be able to enjoy the sunrise up Machu Picchu which is spread out before, an unforgettable experience.
From the Intipunku, the final descent is a quick 35 minutes walk that leads visitors past a small stone tambo into the citadel of Machu picchu, then you'll get plenty of time to take pictures and explore the citadel by yourself of course you can also climb up the Huaynapicchu mountain (2700 m.a.s.l).
On afternoon we go down by bus until Aguas Calientes town where we catch train back to Cusco for around four hours.
Total distance: 4 km (2, 49 miles)
Estimated walking time: 2 hours.
Maximum altitude point: 2,700 m (8,829 ft)
Campsite altitude: 2,400 m (7,872 ft)
Includes:
Hotel pick up in Cusco.
Private bus transportation from Cusco to km 82 (where we start the hiking).
Professional Bilingual tour leader (two leaders for groups over 8 people.
Porters to carry the company's stuff.
Cook and meals (03 breakfasts / 03 lunches / 03 dinners).
Camping equipment (tents, mattresses, tables, chairs, kitchen tent and dinning tent).
First aid kit and Oxygen balloon.
Bus down ticket from Machupicchu to Aguas Calientes town.
Entrance fees to Inca Trail and Machupicchu.
Train ticket from Aguas Calientes town to Cusco (expedition service).
Not included:
Breakfast on first day and lunch on day four
Tips for crew (tour leader, cooks and porters)
Sleeping bag (can be hired in our office U$ 03 per day)
Entrance to visit the hot spring in Aguas Calientes town (10 soles)
Porter to carry your personal items 12 kilograms ($ 70)
Vistadome train service (U$ 50 pluss)
We recommend bringing: