Type: Trekking
Duration: 4D/3N
Distance: 43 km
Season: All year
Departure: Check Availability
Minimum of Passengers: 2 people
Choquequirao Trek 4 Days is a spectacular though challenging hike that crosses the Canyon of the Apurimac River and ends up at theamazing ruins of Choquequirao.
It is one of our cultural treasures, a historic legancy with tough geography; We will experience the peaceful life of its people. When the clouds break the sun will come out and show Us impressive terraces which cover the mountain side.
The ruins are undergoing the slow process of restoration. Most of them are still covered with thick vegetation. Archaeologist assure that only 35 % of this impressive monument can be observed, In some cases the architecture and interior desing are much more advanced than at Machu picchu.
Choquequirao is an alternative trek in Perú and it is very popular because it is off the beaten path and many travellers don't have the opportunity to visit it. Choquequirao Peru Trek is considered the most attractive tourist destination in Cusco Machu picchu Tours Agency for the year 2021.
View Map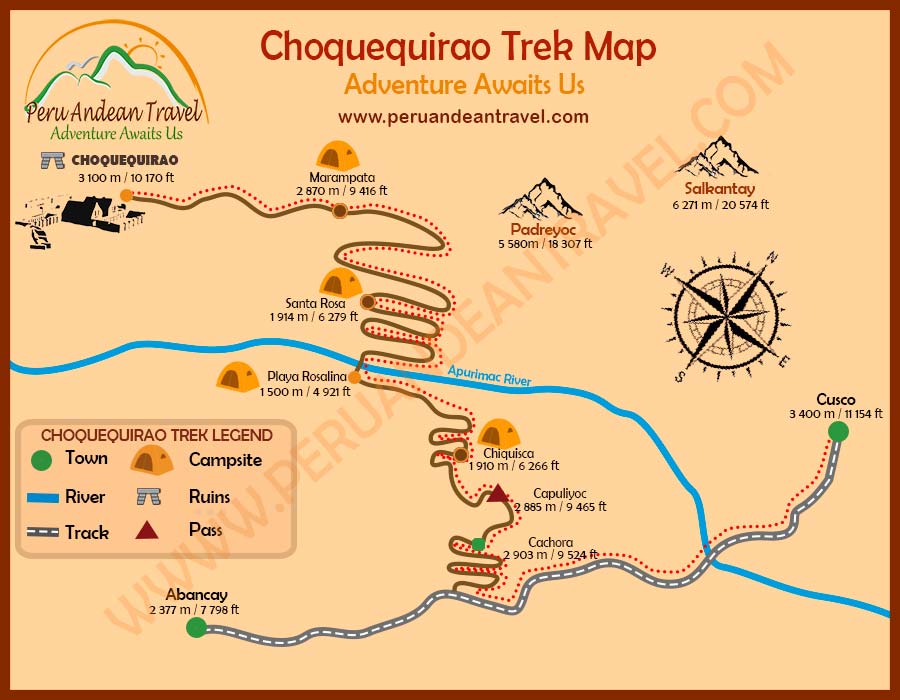 Choquequirao Trek
Day 1: Cusco – Cachora – Playa Rosalina - Santa Rosa
At 5.30 am you will be picked up from your hotel. We will take a transportation from Cusco to Cachora town 2600 m.a.s.l (8,530 ft) This trip of 4 hours is the start of the big adventure!
We arrive at Cachora at approximately 10.00 am, afther that We meet the horse leader. Once there we organize the equipment and luggage on mules and horses.
This day we walk through great sceneries getting, During the hike we will enjoy a nice lunch at a place called Capuliyoc top view point where we enjoy a break and the entire valley and Apurimac canyon. Then we will hike to the Rosalinas Bridge over the Apurimac River, which is situated 1500 meters above sea level. then We will continued until Santa Rosa and We will camp here on the first night.
Day 2: Santa Rosa – Marampata – Choquequirao.
After a healthy breakfast we start to walk to heading in the direction of Marampata, via Santa Rosa, a beautiful place where there is the option to take the famous "Cambray" – a traditional artisan drink based on sugar cane.
After 1470 meters (4,823 ft) walking up we get Marampata community (2870 m.a.s.l) (9,416 ft) where we enjoy a lunch in the middle of great scenery. After a nap we still walk up with direction to Choquequirao, camping near the ruins.
Day 3: Choquequirao – Chiquisca.
Today is We will visit Choquequirao and around old construction of course all of this in a guided tour including the recently discovered areas where the government is still working. On afternoon we return on the camping place to have lunch and to return to Chiquisca, where we spend the evening.
Day 4: Chiquisca – Cachora – Cusco.
Early breakfast at around 04:30 o'clock in the morning and then walking up to Capuliyoc view point and Cachora village where we say good bye! horse leader then We will continue by car to Cusco city.
Includes:
Pick-up at hotel in Cusco.
Private transportation from Cusco to Cachora. (4 hrs).
Professional guide.
Meals throughout the trip (3 breakfasts, 3 lunches, 3 dinners).
Camping equipment (tents 4 seasons for 3 people , mattresses).
Accommodation in triple tent for two people.
First aid kit.
Mules to carry the camping gear and your belonging (5 kilos per person).
Horseman (for one to three mules).
Specialized cook.
Private car from Cachora to Cusco, including transport to your hotel in Cusco.
Not included:
Breakfast on the first day.
Lunch and Dinner on the last day.
Entrance to Choquequirao.
Sleeping bag.
Walking stick.
Tips.
We recommend bringing: