Type: Tour
Duration: Full Day
Distance: 120 km
Season: All Year
Departure: Daily
Minimum of Passengers: 1 Person
Machu picchu Full Day Tour is Peru's most popular tourist destination and one of the wonders of ancient world. You won't be disappointed by the sight of the ruins of Machu picchu, rising miraculously out of the lush cloud forest and framed by steep surrounding mountains.
The ruins of Machu picchu are fascinating when viewed as part of a tour, but they are also a pleasant place to simply wander, reflect and explore. You can stumble upon dramatic views unrecognizable from the signature Machu picchu Shot, soak up sun on a grassy Inca terrace or even hike the trails to nearby peaks for another view.
Machu picchu Tour is easy but due of the high volume of visitors, a trip to Machu picchu can also be trying if is not well planned, We will work with you to design your trip to Machu picchu full day, and we hope you enjoy a magical and beautiful experience with Machu picchu Agency.
Just breathing the air at Machu Picchu suggests why the incas probably used the city as a place for retreat: in mystery, stillness and splendor, it still lives up to its name.
View Map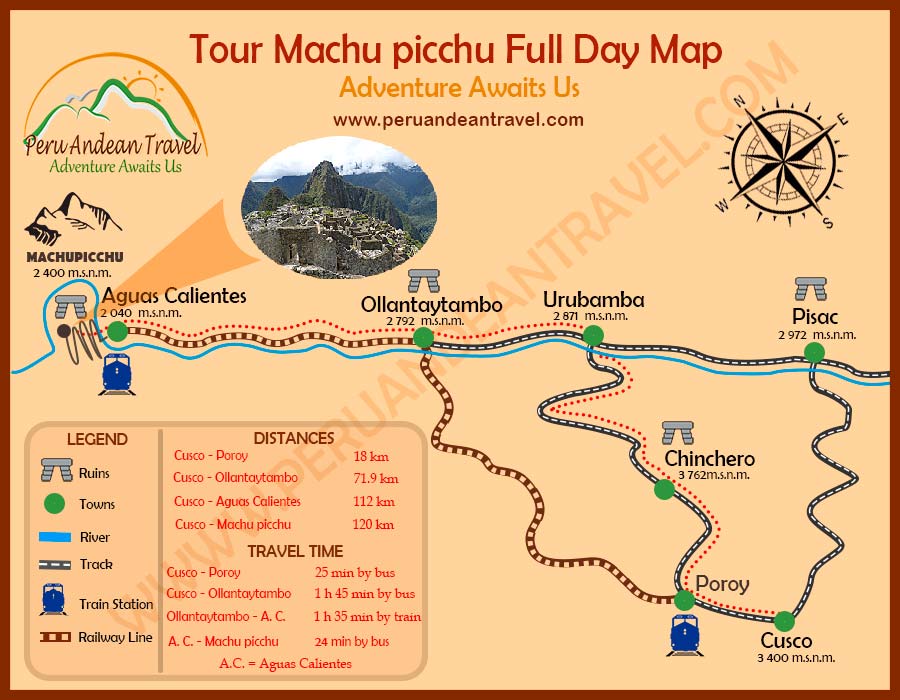 One day tour to Machu picchu is a trip designed for a tourists who want to visit Machu picchu in one day, Our departure will be early in the morning, We will take a car from Cusco to train station (Ollantaytambo or Poroy), with respect to the train you will find 3 train services, The Hiram Bingham train is expensive but it has a the best service on train, Vistadome train is slightly faster and incluides extra services and panoramic views, and The Expedition train is less expensive and leaves half an hour later.
After train trip, We will arrive to Aguas Calientes, most of the services to be found in town are clustered around its main street, there are numerous restaurants with a peruvian food where when you can back after you tour to Machu picchu you can take some restaurant.
We go ahead with our tour, after to arrive to Aguas Calientes, our staff will assist you and He show you a place where you can take a bus from Aguas Calientes to Machu picchu and you will find you guide.
Once there you will enjoy a guided tour for two hours where you will explore the most important and interesting places in Machupicchu, When you stay in Machu picchu you will find many cultivation terraces, interwoven with irrigation canals, aloowed multiple harvest throughout the year, The Machu picchu city was made up of more than 200 houses, squares, graneries, palaces, temples, and observatories.
The most significant building however are; the sun temple, the main square, the temple of the tree windows, and the condor temple. Other attractions incluide the funerary rock, the main door, the Inti huatana, the Acllahuasi, the royal mausoleum and the princess's house amongst many other marvels.
In afternoon we take again a train back from Aguas Calientes town to Ollantaytambo or Poroy then We will back to Cusco city.
Included
Before arrival in Cusco
Please confirm the address of the hotel/hostel where you will be staying in order to organize your pick-up on the day of departure.
Included in all Services
Return transport and train from accommodation in Cusco to Aguas Calientes.
Return train tickets Poroy/Ollantaytambo - Aguas Calientes.
Return bus ticket Aguas Calientes - Machu Picchu.
Entrance fee to the ruins.
Professional guide (English-Spanish).
Guided tour of Machu Picchu.
Not Included
TIP for your guide (per person we suggest a voluntary tip to the guide of between $5-10).
Expedition: small snack included.
Vistadome: breakfast included on the way and a small u2018brunchu2019 included on return.
Hiram Bingham: all meals, snacks, and drinks included.
What to Bring